Co-op A AV Walkthrough
The Firespring Co-op A space offers a complete projector and sound system for displaying presentations from your computer. We also provide the most commonly needed cords and adaptors to connect your computer to the system. Our system is highly automated and easy to use. Just follow these instructions to get started!
1. Touch anywhere on the dark touchscreen to begin.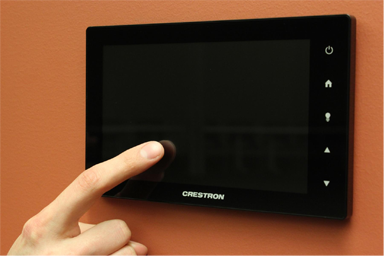 2. To lower the screen and turn on the projector, press "Single-Room Mode".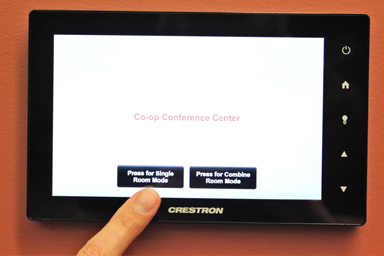 Please note that the projector takes several minutes to warm up and begin projecting image onto the screen.
3. Select the cord you need to connect your laptop to the system
The VGA cord, and any others you might need, can be found in the podium. Below the touchscreen is the wall plate where you can connect your cord to the system.
The most common connector is VGA and looks like this:
The HDMI connector looks like this: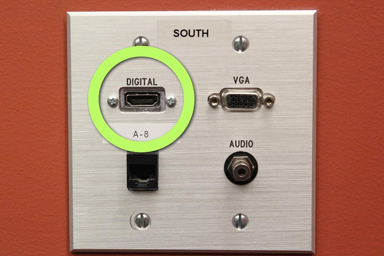 4. Connect the VGA cord to the wall plate like this.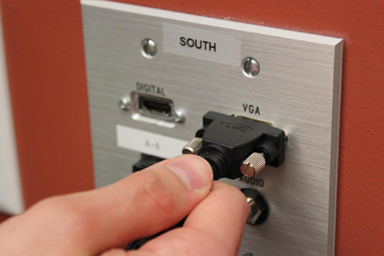 If you're using sound, plug in the attached audio connector like this.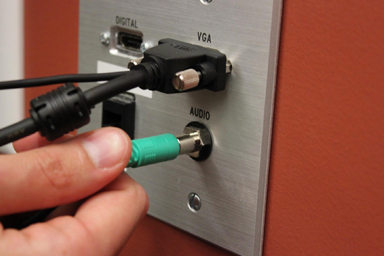 5. Go back to the touchscreen and select the kind of connection you're using from the row of buttons along the top of the screen.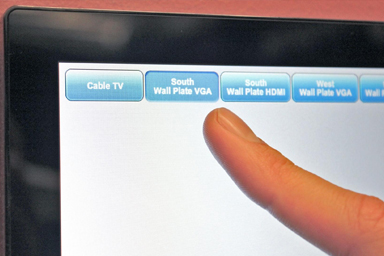 If you are using HDMI to connect your computer to the system, simply select "South Wall Plate HDMI".
7. If you're using sound, be sure to check your audio levels before your presentation.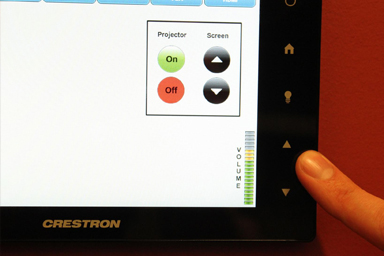 Sound volume should be adjusted on your computer first, but you can adjust the volume of the Co-op speakers using the touchscreen.
You're ready for your presentation!


8. When you are finished and ready to shut down: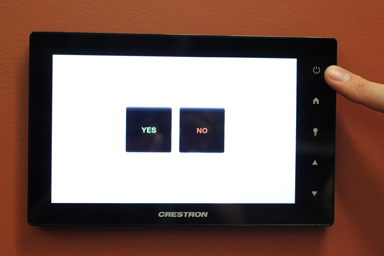 simply press the Power button in the top-right corner of the touch panel. It looks like a 'c' with a line up the top of it.
9. Press the "Yes" button to confirm shutting down the system.
This will turn off the projector and raise the screen automatically. That's it! Please disconnect any cords you used and place them back in the podium shelf.