Make yourself at home
Room Rentals
Firespring has some stellar meeting spaces and when they're not in use, we love to have qualified 501(c)(3) organizations as guests. Please complete this form to request meeting space. We'll follow up with you soon via email.
Although the rooms are free for nonprofits and our clients, we do require a $100 deposit for under 25 attendees and a $200 deposit for over 25 attendees.
Nonprofits are limited to one-day events once per quarter.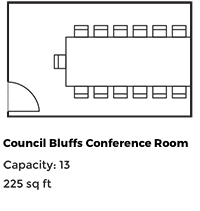 Your Information