QUICK TIP
Traffic can come from a variety of places. Some visitors are considered "direct," meaning they entered your URL in their browser. Some click a link to get to your site, while others use search engines. Breaking down your traffic data into these various categories can show you where you're doing well, and what opportunities you have for improvement.
QUICK TIP
While search traffic is great, it can be deceiving. Often, customers or people familiar with a business will search for your business name as an easier way of getting to your website. These people are not "discovering" your business, rather using search engines as a shortcut. It's important to filter traffic numbers to get an accurate picture.
SEO Case Study
SEO Case Study & Analysis
THE CAMPAIGN
In January 2010, Firespring launched a six-week search engine optimization (SEO) campaign for Mele Printing, a New Orleans printer.
Like every Firespring SEO package, the campaign began with an initial discovery
questionnaire to identify opportunities before determining the most valid and effective keyword phrases. Next, we revised page content on the homepage and other key product pages to give Mele a smart path to climbing search engine results.
After revisions, we tracked the rankings for keyword phrases we are pursuing, and
fine-tuned our revisions based on insights we gained.
A comprehensive custom report was sent explaining the results, along with helpful
hints and best practices for SEO.
THE RESULTS
A baseline sample of Mele's website traffic was taken shortly before our SEO efforts were put to work. One year later, we collected a second sample during the same time period, allowing plenty of time for our SEO efforts to take hold.
With a year of data at our fingertips, we reviewed the results with Mele.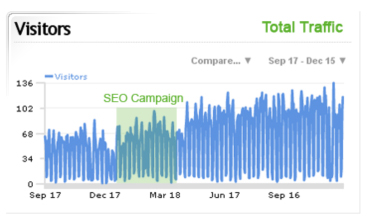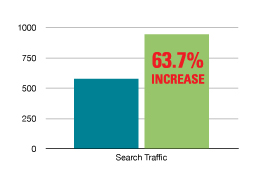 Search Traffic
To take a closer look at "search" traffic, we excluded all linked and direct traffic from the website statistics. This provides a better look at how many people were discovering Mele Printing through search engines.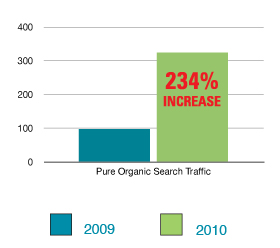 Pure Organic Search Traffic
To get pure results, we eliminated all traffic that was searching for the business or product name, or variations of them. These visitors already knew about the company, so they weren't offering any new opportunities to Mele Printing. We wanted to find website visitors who were discovering Mele as a result of SEO efforts.
THE BOTTOM LINE
During our three-month sample period, pure organic visitors increased by 227 (on pace for 908 per year). These extra visitors discovered Mele Printing through a search engine.
IS SEO WORTH IT?
Since Firespring SEO is a one-time investment with efforts that continue to pay off over time, the cost per visitor will continually decrease. For example, let's assume Mele gets the same number of pure organic visitors every year: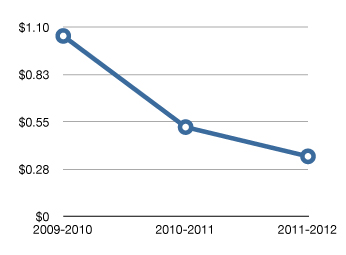 Cost Per Additional Website Visitor (from SEO campaign)
Additionally, it's likely that the number of pure organic searches would increase with time, which will drive the cost-per-visitor down even further.
THE FEEDBACK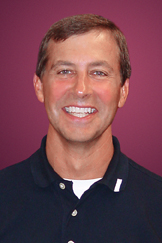 Numbers are one thing, but when it comes to the SEO campaign process, and more importantly, the results, we'll let Steve Jacobs from Mele Printing do the talking.
"It took some time for the website traffic to pick up. But, once it did, WOW, it just took off. Each month after the SEO was implemented we set site traffic records. And naturally, with more traffic comes more leads, quote requests and business."
"The SEO campaign led people to find us organically. When we started the campaign, we were on page three of a Google search for New Orleans printers. Today, we are the number two listing."
"As far as real dollar and cents business that you can directly attribute to our website, I would say that tripled."